Veeam Backup & Replication – a Meta-Review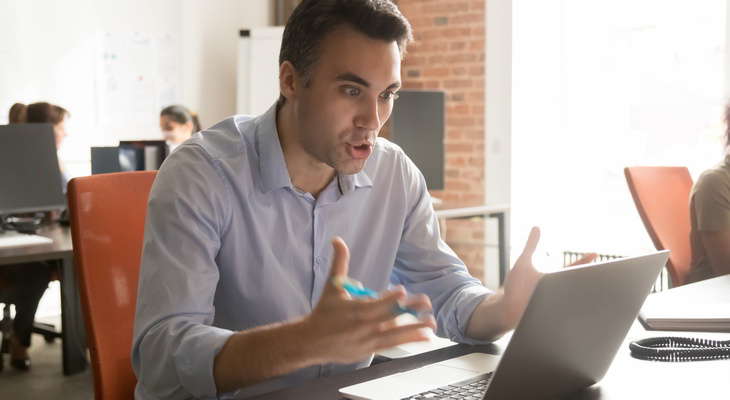 SUMMARY
Veeam Backup and Replication is an industry-leading component of many information security policies
Scalable and fast, the latest edition carries new features to combat ransomware and make backups faster than ever
Computer One has compiled reviews and insights from several sources.
We talk about backup with our clients so often that we must sound like a broken record at times. But there's a good reason. Frequent, stable and secure backups lie at the heart of any company's defence against malware and the potential failure of electronic hardware and software.
Fortunately, you don't have to reinvent the wheel to protect your data – many backup software vendors have tools at the ready for you, one of them being Veeam. Veeam Backup & Replication is the core of the company's backup offering – today, our goal is to introduce you to the strengths and weaknesses of this solution.
What Is Veeam Backup & Replication?
Veeam Backup & Replication is an enterprise backup and data protection solution with an emphasis on flexibility and mobility. This platform competes with other enterprise-aimed backup toolsets such as Acronis Cyber Backup and solutions from Altaro, Nakivo, and Commvault.
Veeam Backup & Replication is capable of protecting data across physical, virtual, and cloud workloads. Released in 2020, Backup & Replication v10 is the latest iteration of the solution, bringing major improvements and changes to its operation.
What Can Veeam Backup & Replication Do For Your Company?
Data protection across physical, virtual, and cloud environments
The most noteworthy feature of Veeam Backup & Replication is that it is hardware-agnostic – that is, it does not require you to perform any hardware adaptations to backup and restore data for any workload.
This is achieved via a software-based approach – Veeam integrates its platform with a number of storage vendors. These vendors' solutions are mobile and separate from any hardware, thus allowing you to easily move your data across your network's devices.
Veeam Backup & Replication has the capacity to protect workloads across these platforms:
• Cloud – Amazon Web Services (AWS) and Microsoft Azure.
• Virtual – VMware vSphere, Microsoft Hyper-V, and Nutanix AHV.
• Physical – Microsoft Windows and Linux.
• Applications – Microsoft, Oracle, and SAP.
Other storage vendors may leverage the Universal Storage API to integrate their storage solutions with Backup & Replication.
Unlike other solutions where you have to purchase separate licenses for each class of hardware (like servers, workstations, or Office 365 data), Veeam Backup & Replication features the Veeam Universal License (VUL) that is portable across all supported locations and workloads. You may also use the Per-Socket license for VM (virtual machine) backup.
Some backup software vendors have both universal and workload-based license options, but many offer only the latter, making license management more burdensome.
NAS backup & recovery
One of the key features of Veeam Backup & Replication v10 is data backup and recovery across NAS (Network Attached Storage). v10 allows you to flexibly use existing storage to store and access backups, as well as to offload data to the cloud or offsite repositories.
The NAS backup engine in v10 has the following features:
Scalability. Your backup storage capacity may be seamlessly scaled with Scale-Out Backup Repository. With Scale-Out Backup Repository, users can easily extend backup repositories when necessary without having to fully relocate old backups.
Forever-incremental backup engine. Forever forward incremental backup uses incremental backups to speed up performance. The very first backup procedure will back up your entire data. During subsequent backup runs, only data blocks that have been changed are copied.
Backups from storage snapshots. Veeam Backup & Replication can back up files from storage snapshots stored on secondary storage arrays, minimising the performance impact on the production environment.
Ransomware protection
Veeam Backup & Replication v10 has a new feature – immutable backups – for added protection against ransomware and other threats. This feature, essentially, forbids the deletion or modification of recent backups. The data becomes immutable to both users and malicious actors. This is an important extra protection against ransomware that seeks to encrypt your files and compromise your access to past copies.
Data is encrypted with the AES (Advanced Encryption Standard) 256-bit algorithm as well before being copied to its storage location.
Simplified backup management and compliance
Backup & Replication v10's Copy policy allows you to immediately duplicate new backups to object storage (a repository intended for long-term data storage) from data put into the Performance Tier (used for short-term storage of data that is accessed frequently). This allows you to achieve compliance with the 3-2-1 backup rule and regulatory requirements.
Multi-VM Instant Recovery
The Instant VM Recovery feature allows you to rapidly restore workloads as VMware vSphere VMs. This feature may be used to restore a wide range of backup workloads, including but not limited to data from Windows devices or AWS.
To improve performance and reduce latency, the restored workloads rely on caching in workload-aware RAM, which is faster than SSDs or other devices where backups may be stored.
Instant VM Recovery allows you to recover multiple backup images at a time. Mass restores are performed in just a few clicks. You may also restore only the required discs (e.g. only the operating system disk) to speed up recovery.
Data mining through API
The Veeam Data Integration API allows you to use backups for purposes other than covering you in the event of a disaster. The API provides third-party scripts and applications with access to your data. With this feature, you may use backup data for tasks such as data mining, security analysis in an isolated environment, additional malware scanning, and compliance checks.
Tight Linux integration
Backup & Replication v10 is more tightly integrated with the Linux ecosystem through features like:
Advanced XFS integration. Integration with the XFS file system allows v10 to deliver 20x faster backup operations (according to Veeam) and reduced backup storage consumption.
NFS backup repositories. v10 natively supports NFS (Network File System) backup repositories. Among other things, this makes the software compatible with next-gen storage appliances that commonly rely on the NFS protocol.
Linux backup proxies. v10 supports Linux backup proxies, allowing for greater flexibility in choosing proxy hardware and software. Since Linux backup proxies are lighter than Windows Server ones, v10 ultimately can help you save resources too.
What Do Others Think Of Veeam Backup & Replication – Strengths & Weaknesses
Veeam Backup & Replication has predominantly positive feedback on review aggregators such as TrustRadius, G2, Gartner Peer Insights, or Capterra.
The most acclaimed aspects of Backup & Replication are as follows:
The hardware-agnostic model that makes data mobile across backup repositories and production devices.
Simple and intuitive user interface.
The wide array of workloads and environments that data may be backed up from.
Fast backups with minimum performance impact on production workflows.
Extensive customisation via APIs and scripting.
Simple licensing and excellent support.
In 2020, Gartner also named Veeam a leader in the data center backup and recovery industry, marking the fourth time the company has received this title. Gartner particularly commended Veeam for ability to execute (positioning the company the highest among competitors) and innovativeness, based on factors like product development or responsiveness to market trends.
Some users have noted some drawbacks of Veeam Backup & Replication, however, including:
(For users without private links into clients' networks.) Lack of a centralised control panel that would allow users to view and manage backups across different platforms from one place.
Reliance on Microsoft products (e.g. Windows), which may increase the total cost of ownership (TCO) of Backup & Replication.
No native data protection for macOS devices.
Relatively steep pricing (at least, for the VUL edition), which could be an especially big problem for smaller businesses. The cheapest edition of the Veeam backup suite costs USD$600 annually for 5 universal licenses. Veeam does offer the free Community Edition, but it lacks many of the features that make Backup & Replication special. You may purchase licenses from Acronis or Altaro for much cheaper – as low as USD$299/year for 5 VMs from Altaro or AU$85/year for workstations from Acronis. However, note that these licenses are not universal and only cover the specified type of devices.
The final word.

Computer One is a vendor-agnostic company, always recommending and working with the solution that is a best fit for a client's purposes. Having said that, Veeam's product is very reliable and the fit-for-purpose choice in most situations. It is a solid choice.